Snowmobile Insurance
Your snowmobile is your ticket to enjoying the fresh mountain air and exhilarating scenery of the countryside, and while you're out there in the thick of it all, contemplating whether you have the right insurance should be the last thing on your mind.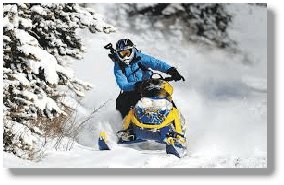 Collision Coverage
Covers damage to your snowmobile from a collision with rocks, trees, ice, and other obstacles
Comprehensive Coverage
Coverage for loss or damage from theft, fire, or vandalism
Property Damage
Pays for damage to another person's property for which you are liable
Bodily Injury Liability
Covers the medical expenses of others if you're at fault in an accident
Uninsured Motorist Protection
Insures damage caused by uninsured or underinsured riders
Additional Snowmobile Insurance coverage is also available for any custom equipment that you've added to your snowmobile. Medical Payments Coverage to protect yourself and your passengers in the event of an accident is also available for a premium.
Depending on your insurance situation, discounts may also be available for completing rider safety courses or by being a member of certain riding association memberships. A representative will review your insurance needs to design the right policy for you and determine your discount eligibility.