Floral shops that are open to the public present special risks. Customers may walk in unexpectedly or make appointments to discuss special events. Conditions such as water on the floor, allergies, thorns and other issues might pose a risk. What about your floral deliveries or employee injuries?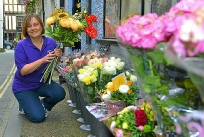 As the owner of a small business retail flower shop juggling the flow of customers with the work of the employees is a challenge. Successful business owners juggle these tasks and cover their bases with the proper insurance protection.
Types of Florist Insurance….
General Liability
A general liability policy can be purchased on its own or in combination with a property insurance policy. If your sued, general business liability coverage will protect your store's assets whether at fault or not, for causing personal injury or property damage, unless specifically excluded.
Property Insurance
Florists may own their own shop or rent space. Every commercial lease will (or should) require property insurance of a certain amount as a lease condition. Mortgagers and lenders require their security interest to be insured. In that sense – this coverage is required.
Fire, theft, and lightening damage are all risks of owning a floral business. Property insurance coverage provides protection against these perils. An open peril policy covers all causes of losses not excluded specifically in the policy. On the other hand, named perils must be listed on the policy in order to provide coverage for a loss. A property insurance coverage policy can be tailored to meet the specific needs of your store.

Crime Insurance
Employees, customers and passersby put you at risk of theft and the potential loss from the theft. This insurance cover all types of crimes including theft, vandalism, shoplifting and dishonest employee practices. Many customers pay for items you sell via cash, which you probably carry on your premises at any given time, making you liable for crimes of theft.
Seasonal Coverage
If your floral business is dependent on a peak season such as "wedding season," this coverage can protect against losses in that particular season. This is important because some business interruption or income policies average out income loss. Meaning if you lose the highest income producing month you are reimbursed not at "peak" but at an average of the last twelve months.
Inland Marine Coverage
Inland marine insurance is designed to protect your property while in transit. This coverage also protects your inventory being held in storage. When inventory is stolen in transit or at the storage site, an inland marine policy would cover the loss. Referred to as a floater, it's highly recommended to fill in the gaps in your insurance coverage and is usually purchased as a supplement.
Business Owners Insurance
This is a package policy that combines different types coverage into one policy, such as electronic data, newly acquired buildings, building and contents, dishonest employee coverage, and business income or extra expense. If there was a natural disaster in your area that caused damage to your building and contents, the BOP can cover repairs and replacements of supplies and equipment as well as help cover the business income you lose while the repairs are being done. These policies are usually less expensive as a package policy.
Equipment Breakdown
Floral refrigeration equipment is key to running your business. If any of this equipment was to break down, you would not only be liable for repairing or replacing the equipment but you would lose income as well. Equipment breakdown coverage is vital to your business as it helps pay for repairs or replacements along with income loss benefits.