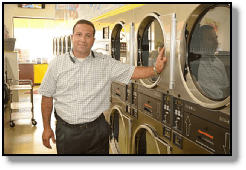 As an owner of a commercial laundry business, you face unique risks when it comes to running a successful establishment. Understanding what your biggest risks are is key to purchasing the right type and right amount of laundromat insurance coverage.
Fires caused by greasy fabrics, clogged dryer lint, or combustible items are among the biggest risks. More frequent risks include: customers slipping from wet floors or leaky washers, children playing with equipment or running through the laundromat, falls from sitting on folding tables, or from uneven floor surfaces. Protecting your high value machines is a critical part of having the right type of coverage.
Types of Laundromat Insurance…
General Liability
A general liability policy can be purchased on its own or in combination with a property insurance policy. If your sued, general business liability coverage will protect your assets whether at fault or not, for causing personal injury or property damage, unless specifically excluded.
Property Insurance
Fire, theft, and lightening damage are all risks of owning a laundromat. Property insurance coverage provides protection against these perils. An open peril policy covers all causes of losses not excluded specifically in the policy. On the other hand, named perils must be listed on the policy in order to provide coverage for a loss. A property insurance coverage policy can be tailored to meet the specific needs of your store.

Crime Insurance
Employees, customers and passersby put you at risk of theft and the potential loss from the theft. This insurance cover all types of crimes including theft, vandalism, shoplifting and dishonest employee practices. Most customers pay for your services via cash, which you probably carry on your premises at any given time, making you liable for crimes of theft.
Loss of Income Coverage
Laundromat owners who have business interruption insurance use it when they have a severe loss such as fire or hurricane. However, the coverage applies to any covered loss, such as a small fire that puts only some of your machines out of service. The loss of income from those few machines can be claimed after the waiting period has been met. Remember that there must be a direct physical loss at the premises for the coverage to apply.

Business Owners Insurance
This is a package policy that combines different types coverage into one policy, such as electronic data, newly acquired buildings, building and contents, dishonest employee coverage, and business income or extra expense. If there was a natural disaster in your area that caused damage to your building and contents, the BOP can cover repairs and replacements of supplies and equipment as well as help cover the business income you lose while the repairs are being done. These policies are usually less expensive as a package policy.
By choosing these business insurance policies, you can protect your assets and business that you've built with hard work. Bagel shop insurance takes care of the unexpected events that might occur so you can continue to run a successful business.